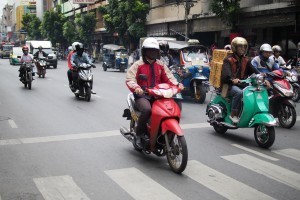 Canada's International Trade Minister Ed Fast recently made his thirteenth trade visit to South East Asia to join fellow government officials at the Canada-ASEAN Business Forum, which took place March 18 and 19 in Bangkok with a focus on improving trade and commerce between the two parties. Issues related to economic integration of the Association of South East Asian Nations (ASEAN) were also covered.
Last year, Canada's trade with the region was $18.8bn – a figure that Fast believes can be convincingly surpassed in the coming years. Before departing for Bangkok, Fast told the Vancouver Sun that he will go back to the region "again and again" and that the region is "a huge opportunity" for Canada. During a period when China's economy appears to be finally cooling off, South East Asia is emerging as a high-growth region containing several potentially booming economies. According to the IMF, the GDP growth rates of Indonesia, Vietnam and the Philippines – all members of ASEAN – will reach at least 6% by 2019.
July 2009 marked the establishment of the ASEAN-Canada Enhanced Partnership. According to Foreign Affairs, Trade and Development Canada, the organization aimed to "enhance economic relations, promote investment, coordinate with existing multilaterals and develop a mechanism for the regular exchange of information on trade and investment." Since the partnership has been in place, however, the amount of trading between the two parties has arguably not met expectations.
In 2013, a survey conducted by the Asia Pacific Foundation of Canada found that Canadian businesses in the region had several concerns that hampered business expansion, including intellectual property infringement, corruption and an inconsistent application of laws and regulation. For Canadians, the region is still somewhat of an unknown quantity, especially in comparison to its Asian neighbours China, India and Japan. ASEAN is still viewed as a region with varying political regimes, uneven levels of economic development and considerably different cultures – and such factors may also account for the lack of Canada's trading bullishness in the area.
ASEAN leaders are trying to resolve some of these issues. Inspired by the EU's European Economic Community, the ASEAN Economic Community (AEC) hopes to create a single market to allow for the free flow of capital, labour, investment, goods and services throughout the region by the end of 2015. Although the region is currently a free-trade zone, the trade rules and procedures significantly vary from country to country.
Moreover, the Canadian government has implemented support programmes to assist Canadian investors and entrepreneurs in the region. The government also guides many ASEAN states to public-private partnership centres to promote development and improve local standards of living, while benefitting Canada through increased business opportunities. In the past year alone, the government has introduced resident representatives into Cambodia and Laos, announced the appointment of a dedicated ambassador to ASEAN, and opened its first Chancery in Myanmar (Burma).
Stewart Beck, president and CEO of the Asia Pacific Foundation of Canada, believes that Canada's future can be greatly enhanced by increasing its focus on ASEAN. Beck believes this is attainable through a combination of increased education and support of Canadian businesses operating in the region, and by fostering greater awareness of ASEAN in Canada.