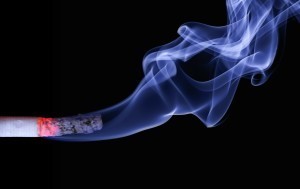 For the past year or more, e-cigarettes have been touted as a darling to replace traditional tobacco cigarettes. The 'smokes' don't contain tobacco and don't have any smoke per se, but rather a nicotine-infused vapor to give the user the feel of a traditional smoking experience. The major players in the tobacco industry, like Altria Group, Inc. (which produces Marlboro cigarettes and represents nearly half of the U.S. tobacco market) and No. 2 Reynolds American, Inc. (maker of Camel cigarettes), jumped on the bandwagon to produce and sell e-cigarettes.
Investors and brokers, seeing a growth driver in an industry that has been saddled with the pariahs of regulation and medical challenges, have been hoping for a piece of what is projected to be a $2 billion industry by 2014 year-end. E-cigarettes are currently not regulated, don't contain carcinogenic tobacco and are not covered by the U.S. Food and Drug Administration's primary tool, the 2009 Tobacco Control Act.
There are problems. Claims that e-cigarettes would help smokers stop, or that using e-cigarettes would not lead to progression to other products, are mostly speculative. While tobacco carcinogens have undeniably been linked to certain forms of cancer, nicotine itself has not been shown to be linked, nor have studies shown conclusively that nicotine is not harmful. Another chemical present, propylene glycol, also has not been determined to be harmful or proven to be safe. Certain e-cigarettes have not functioned as expected and have even blown up in the user's face when ignited. Concerns have caused certain states and major municipalities to ban e-cigarette sales to minors and to ban use of e-cigarettes in specific geographies or venues. A report published in JAMA Pediatrics showed that youths with previous experience with e-cigarettes were six times more likely to smoke traditional cigarettes.
Despite the challenges, e-cigarette companies have been pursued by investors. NJOY, an e-cigarette maker based in Scottsdale, Arizona, recently engaged nearly a billion dollars in capital investments from Brookside Capital and Morgan Stanley Investment Management. While the tobacco industry has been quite profitable historically, it will continue to face a number of regulatory challenges. Moreover, a ballooning debt profile for companies such as Altria should cause investors some concern.