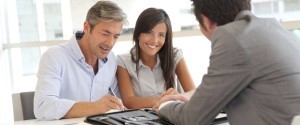 One of the highest priorities for financial advisors is ensuring that their clients receive sufficient benefit from the advisory service. Below are several suggestions that will help advisors to provide valuable guidance to those clients.
"Ask them what they want," says Rona Birenbaum of Caring for Clients, a leading financial planning firm located in Toronto. Ms. Birenbaum believes this is the first move for any client service model: "There is no point in integrating a whole bunch of practices into your service model if it is full of things that clients don't value. The best way to design a service model that wows is to ask clients what is important to them."
An advisor should also be able to demonstrate that he/she is receptive to a client's wants. Once these are ascertained, two main benefits will result, according to Birenbaum. "Firstly, they get the service they desire and secondly, by responding quickly to their feedback, they realize that you are listening to them and that what they say matters."
Additionally, Birenbaum emphasizes the importance of giving positive feedback to the client. "This is not in the list of standard ways to add value, but it is one of the most important," she observes. "We all want a pat on the back now and then and our clients are no different. When they meet established goals (saving, spending less, getting their wills done, etc.), acknowledge the accomplishment. This will encourage them to focus on achieving the actions that they are yet to complete."
It is also vitally important to inform clients when they have made mistakes. "Let them know they've dropped the ball," Birenbaum suggests. "Remember that clients have hired us to help them accomplish the things they could not master on their own. Don't be surprised when they thank you for pointing out when they go astray and for getting them back on a progressive financial path."
Meanwhile, Jackie Porter of Carte Wealth Management believes that the main way to add value is helping clients "to see their financial circumstances clearly, which leads them to more informed decisions." This will ultimately help advisors by establishing realistic expectations of deliverable value from their clients.
All of the methods of demonstrating value described here have at least one feature in common: They all involve effective communication between advisor and client. Michael Kitces, an expert on financial planning, discussed the communicative aspect of financial advisory last year in detail. Kitces identified four tenets of such communication:
Be meaningful, in order to reflect client needs and expectations.
Be profitable, so that the value of the overall relationship is aligned with the cost of communication.
Ensure communication is defined in a way that will allow it to be standardised and automated.
Outline the specific strategy of communication that will be employed at the outset of the relationship, so clients will know what to expect.
Furthermore, as Kitces' article shows, there is much scope for debate and consequently improvement in advisor communication approaches. The more this area is examined, the more assistance advisors will ultimately receive in demonstrating value to their clients.