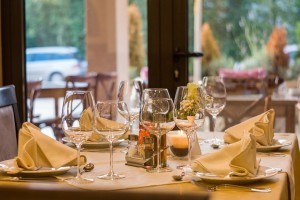 The United States is home to over 600,000 restaurants in nearly 1 million locations, employing approximately a tenth of the labor force at any given time. Although the industry was hit hard by the Great Recession, recent census and Department of Commerce data shows that growth has rebounded and in some months even surpassed pre-recession levels. That said, changes in income distribution and consumer behavior have made what some speculate to be permanent changes to the industry.
Over the course of the Great Recession, industry value added of the Accommodation and Food Services Industry fell by 2.9%, compared to a 2% contraction in the economy at large. In other words, the percentage of GDP generated by the industry fell more quickly than other sectors of the economy.
Unemployment increased significantly during the recession and remained persistently high for years after growth resumed in June 2009. When consumer confidence is low, meals out are typically one of the first things people cut out of their budgets, so restaurants were hit particularly hard. This was combined with the fact that people laid off in other industries sought employment in restaurants and hotels.
Unemployment in restaurants surpassed 10% in January 2009 and remained at least that high through July 2013, peaking in January 2010 at 13.9%. This exceeded the unemployment rate in general, which peaked at 10% in October of 2009.
Lately, however, many chefs have noticed a labor shortage in American restaurant kitchens. According to the National Restaurant Industry's most recent tracking survey, 18% of proprietors reported that the biggest challenge they face right now is "recruiting and retaining employees." Most attribute this shortage to an improving labor market and low median wages among restaurant personnel.
In response to the resulting upward pressure on wages, restaurant owners have been moving towards technologies that reduce the number of employees needed at a given establishment, including tablet-based and online ordering systems. This will enable them to keep prices low for consumers, whose spending is very sensitive to price changes.
Slow recovery in employment, stagnant wages, and low labor force participation have exacerbated the long-term shrinking of the American middle class. Sales in restaurants reflect increasing disparity between the wealthy and working classes. In spite of a rebound in overall sales, not every subsector of the food services economy has fared equally during this rocky recovery.
Hardest hit has been the casual dining sector, which has experienced a decline in sales since 2008. A recent study conducted by Nation's Restaurant News showed that out of 71 publicly held restaurants surveyed, nearly 39% of casual restaurants showed a decline in same-store sales in the third quarter of 2015, compared with 7.5% of restaurants in other categories.
As a result of this decline, some restaurant groups have chosen to abandon or make changes to their restaurants. Darden, one of the largest restaurant groups in the country, has responded to changes in demand by selling its least profitable chain, Red Lobster, and adding attractive new features such as online ordering to its other casual restaurants, LongHorn Steakhouse and Olive Garden.
While casual dining has taken a hit, sales and foot traffic have increased in fast-casual and quick-service concepts such as Chipotle and Panera. Fine dining establishments, such as Darden's Capital Grille, have seen increases in sales as upper-class Americans have become increasingly wealthy. Spending in high-end restaurants has risen faster than foot traffic, meaning that diners in this sector have been spending more money per person on each visit.
The factor that appears to have the greatest impact on American families' dining habits appears to be the presence of children under the age of 13. Families with young children dramatically cut back on the number of meals eaten out during 2007-2008, and restaurants have been unable to entice them back. Restaurant spending has also been shown to be largely a function of income, with more than half of revenue coming from the wealthiest third of households.
According to the available data, the American restaurant industry has recovered from the Great Recession, but it has emerged changed in a way that reflects shifts in the economy at large. Restaurateurs have adeptly restructured their businesses to reflect changes in consumer behavior. They have gotten something right, as restaurant sales are expected to reach an all-time high of $709 billion in 2015, and the industry is expected to be a leader in job creation over the next decade. Investors are likely to fare better over the long-term by seeking out undervalued opportunities in the industry.