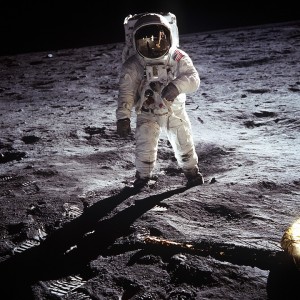 On Wednesday, November 25, US President Barack Obama signed a landmark item of legislation, the US Commercial Space Launch Competitiveness Act, which allows US citizens to claim property rights over any natural resource they recover from outer space. One of the most important passages reads as follows:
"A United States citizen engaged in commercial recovery of an asteroid resource or a space resource under this chapter shall be entitled to any asteroid resource or space resource obtained, including to possess, own, transport, use and sell the asteroid resource or space resource obtained in accordance with applicable law, including the international obligations of the United States."
Although the Outer Space Treaty which is already in place prevents celestial bodies like the Moon from "national appropriation" by the treaty's signatories – the US, Russia and China included – only sovereign states are bound. Private individuals and companies, therefore, can take advantage of this loophole. The new bill protects US companies and effectively allows them to pursue a scramble for resources in outer space – including ice from asteroids and iron or platinum from near-earth objects – which they can then sell, with profits expected to be substantial. It also extends the use of the International Space Station until 2024 and protects US spaceflight providers from regulatory oversight until 2023.
While the bill was rapidly propelled through Congress with backing from both Republicans and Democrats, some have been against the legislation, particularly on ethical grounds. Maryland Democrat Donna Edwards, for example, recently stated that appropriate supervision is not yet in place to ensure companies don't violate the US' international obligations, while some space-law specialists believe that the bill goes against the Outer Space Treaty. However, even if this is so, it is likely to be largely irrelevant since the treaty has no enforcement mechanisms. Therefore, it is improbable that many will be concerned by outer space mineral extraction to the extent that economic sanctions or similar measures will be imposed. Environmental issues resulting from such mineral extraction have also been mooted as a major potential concern.
Already there are a few companies exploring the possibility of mining asteroids. Planetary Resources, a US company based in Richmond, Washington, has received public backing from Google executives Larry Page and Eric Schmidt; and Deep Space Industries, a California-based company, is looking to use small robots for surveying missions to ascertain the geology of asteroids located close to earth. Indeed, Planetary Resources co-chairman Eric Anderson believes that the new law is the "…single greatest recognition of property rights in history" – perhaps unsurprising given that the raw value of the ores from an average-sized mineral-heavy space object is thought to be in the hundreds of billions of dollars.
It is believed by experts that asteroids and other objects inhabiting outer space are rich in numerous commodities, especially platinum-group metals and substances that have the potential to be used as energy sources. Nearly 10 years ago a book was published by Harrison Schmitt, an astronaut who walked on the Moon in the 1970s, claiming that its surface could be mined for Helium-3, which was an ideal substance for generating electricity back on Earth. While 1979's Moon Agreement has effectively forbidden countries to mine on planets and asteroids, including the Moon, the US has refused to sign up, although the agreement remains binding as customary international law. Nonetheless, with the sell-off in the resource sector, investors with an appetite for intelligent speculation in commodities might want to consider opportunities closer to Earth.