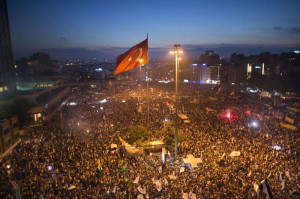 The protests earlier this year in Turkey appeared on the surface to have stemmed from a conservationist effort to protect trees in Istanbul's famous Taksim Gezi Park, one of the few untouched areas in central Istanbul. What started out as a seemingly ordinary demonstration, became worse as the police that were called in to disperse the protest used extremely heavy-handed tactics. Eventually the situation mushroomed, sparking additional protests and riots across Turkey which have been very well publicized.
Of course, the situation in Turkey was not caused simply by outrage over the breakup of a green protest. There have been simmering frustrations building amongst the Turkish people for some time, and the Taksim Square incident lit the fuse.
Prime Minister Erdogan has led Turkey for ten years, winning three elections; yet he remains an extremely divisive figure. Many secular Turks consider Erdogan to be a hardline Islamic who is forcing his conservative views on them, views that they resent.
He has made many controversial statements, but some of his more inflammatory remarks have included that all women should have at least three children and that women should not be allowed to have caesarean births. He has also been attempting to curb the sale of alcohol. These views and more have led to an element of the population feeling ostracized by the ruling party.
So how has Mr. Erdogan stayed in government for so long if a significant element of the population is opposed to him? It's a question easily answered: Turkey has enjoyed an almost unprecedented period of success under Erdogan's rule.
Erdogan's government has actively encouraged opening up the Turkish economy and has been a proponent of privatizing state assets. Even in 2011, when a good part of the world was still in deep recession, Turkey's economy grew by 8.5%. However, the current volatility in Turkey has highlighted some other deeply rooted issues.
Much of Turkey's success over the last decade has relied heavily on foreign investment. Companies that have set up headquarters in Istanbul include Coca-Cola, Boston Consulting Group, Microsoft and most recently Pfizer. Turkey is a strong ally to the US; and situated between Iraq, Iran and Syria, it is extremely important to US foreign policy. The Turkish Government's longevity also gives it an air of stability, which is, of course, very attractive to foreign investors.
The problem with having an economy that is heavily reliant on foreign investment is that the investment can be temporary, sometimes referred to as "hot money." Foreign direct investment (FDI) is sensitive to political issues such as those that Turkey is currently experiencing, and there is understandable unease as to whether Turkey will be able to retain these investments if the current instability continues.
The rioting and protests in Turkey have had a tangible effect on Turkey's economy. Share prices have fallen significantly since the beginning of June, with the Borsa Istanbul National 100 Index sitting near a 1-year low. Moreover, the currency has weakened, and bond yields have increased. There was real worry that tourism would also suffer, since despite Turkey's economic successes with FDI, the tourist industry is still a significant contributor to GDP. Overall the situation might be creating an opportunistic entry point for the bottom-up value investor who is willing to properly value individual companies for inclusion in a global portfolio.  However, the political risk will likely dictate additional measures of caution  – in other words buying at significant discounts.
Erdogan has issued strong statements that his government will attempt to prevent any riots and protests  – and there will be great economic, as well as political, pressures to do so in the right way.