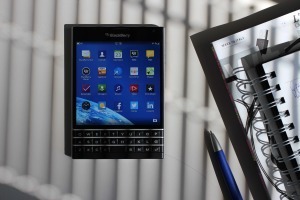 BlackBerry, the Canadian-based company, has recently released a new smartphone and quarterly financial report that shows its turnaround is still a work in progress. The new phone is a 4.5­­­­-inch square-shaped device called Passport. BlackBerry is banking on the Passport's larger screen and more apps to lure smartphone users who use devices manufactured by companies like Apple and Samsung. While CNET had reported a strong start with 200,000 orders placed for the Passport early in the launch, it may take some time to gauge the device's uptake among diehard BlackBerry fans and new converts. In an added effort to gain customers, BlackBerry has since launched a promotion, offering as much as $550 to iPhone users who trade in their Apple device for a Passport.
With views teetering from positive to negative and back, the analyst community may once again warm up to the company, given that BlackBerry reported a slightly lower loss ($207 million) than they had expected. Some industry watchers have speculated that this is an indication that efforts by John Chen (Chief Executive Officer) to stop the company from hemorrhaging cash may be working. In fact, Chen expects the company to return to profit-making status by 2016. Although the Passport launch generated media attention, it is just one part of Chen's turnaround strategy. The once-dominant company now controls less than 1% of the smartphone market, which means it may never make a profit selling its signature phones, and Mr. Chen is ready to exit the smartphone business if BlackBerry indeed does not generate profits. For investors who prefer companies with a clear longer-term strategy, BlackBerry remains a gamble.
As for this shift in strategy, BlackBerry's future may lie in the solutions it offers to enterprises, governments, and individuals. To start with, the company has a solid reputation when it comes to security. For instance, BES12, launched in November, is a software platform that companies can use to manage mobile devices regardless of OS – devices could be running Android, iOS, or BlackBerry software. Other products include BBM Protected, a high­-security version of BlackBerry's messaging service, and BBM Meetings, a secure voice and videoconferencing service.
At the unveiling of the Passport, BlackBerry also launched a service that allows people using mobile devices with different OS's to view content and messaging across all devices. These efforts have seemingly convinced investors that BlackBerry is on the right path, as the stock price is up 54% year-to-date. The company's chief financial officer, James Yersh, also delivered good news when he said cash levels would not fall below $2.5 billion this year. Long­-term debt has also been decreasing, from $1.63 billion in the fourth quarter of last year to $1.5 billion in the second quarter of this year. This means the company still has a strong balance sheet, which will help greatly in its efforts to grow. However, the task of turning around this once-loved Canadian company is going to take time and could involve more layoffs in the future.