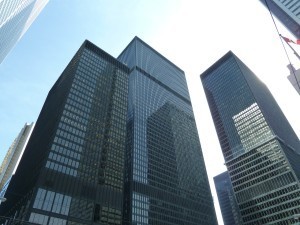 On February 19, credit ratings agency Moody's released a report arguing that the profitability of Canada's big banks would be hurt if oil prices remained low, as this would raise the cost of credit on energy-sector loans. And it can be reasonably assumed, the report argued, that banks' oil and gas clients would most likely cut spending, consequently limiting revenues from capital markets activities and underwriting. Credit costs in oil-producing regions may also rise – the report identifies "slowdowns" in Alberta, Saskatchewan and Newfoundland.
Moody's Senior Vice President David Beattie expects a degree of erosion in the banks' asset quality in the next few months. Bank of Nova Scotia and Royal Bank of Canada are expected to be especially vulnerable to direct and regional factors, although Canada's Big Six are expected to deal adequately with the low oil prices, thanks to the diversity of their portfolios. The weakness of the CAD may also limit the adverse impact by reducing costs and benefiting oil producers who sell using USD benchmark prices. The currency depreciation would act, therefore, as a natural hedge.
While first-quarter earnings came in above expectations for the biggest banks – mainly due to healthy trading revenues, the weaker CAD and a decrease in provisions for credit losses – investor expectations remain pessimistic. Doug Young of Desjardins Securities told Financial Post recently that while there is little evidence of a decline in credit quality within Canadian bank loan portfolios, investors remain concerned about banks' exposure to the oil price slump.
The housing market is also expected to experience a correction. The Teranet-National Bank house price index did rise in February by 0.1%, although this rise was attributable to only three of the 11 regional housing markets – Vancouver, Victoria and Hamilton. The remaining regions experienced losses, with Winnipeg and Ottawa leading the plunge.
Moreover, housing starts fell to the lowest level in almost six years in February, dropping by a hefty 16% from January's figure. Much of this decline has been due to the sharp falls in Quebec and Ontario, where new home construction has fallen by 53% and 35% respectively from a year earlier. This fall has confounded expectations that the Bank of Canada's shock cut in the benchmark interest rate in January – implemented due to the oil price slump – would boost housing demand. Although Alberta housing starts only fell by 1% last month, analysts predict that it is inevitable that low oil prices will begin to significantly impact housing starts in the region.
The Bank of Canada did leave the benchmark interest rate unchanged in February, however, suggesting that the recent trend of declining rates has been temporarily halted to give the economy some breathing space.
The central bank stated recently that the oil price was within its expected range as calculated during its recent quarterly Monetary Policy Report. Given that the economy grew by 2.4% during last year's final quarter (0.4% above most analysts' expectations), the implication of keeping rates at the same level is that the improved economic conditions should mitigate the impact of the oil-price shock to some degree. The bank also expects that "most of the negative impact from lower oil prices will appear in the first half of 2015."