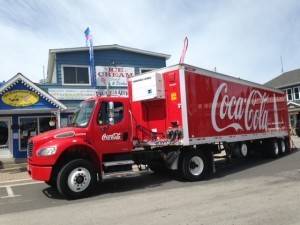 Since being founded in the late 1800s, Coca-Cola (NYSE:KO) has built a strong, timeless brand that consumers today are able to recognize instantly. This has contributed significantly to the company's longevity. Initially creating its now inimitable font as a way to differentiate it from its competitors, Coca-Cola also developed a uniquely shaped bottle for its product, kept its consumer price at 5 cents for 70 years and adopted a franchise model of retail, all of which has helped to cement its legendary status. It has been among Warren Buffett's most prized investments, and epitomizes his style of value investing, given the strong brand and the moat that the company has built around its product to stay ahead of competitors.
Given the increasingly health conscious tastes of the general public, Coca-Cola has been faced with the challenge of developing more nutritious products, and has made some notable progress in this area. In February, the beverage giant announced it would begin selling lactose-free, protein-packed milk under Minute Maid's Fairlife brand, which Coca-Cola formed with dairy co-operative Select Milk Producers in 2012. The product contains 50% more protein than regular milk. In providing some diversity to milk's relatively homogeneous market, Coca-Cola has been able to charge a premium price for its high-protein milk which should increase its margins and overall profitability, assuming that it sells enough volume. Sandy Douglas, president of Coca-Cola North America has stated that it is the type of product that "rains money".
Coca-Cola Enteprises Inc, the world's largest bottler of Coca-Cola products, has recently revealed plans to cut its calories per litre by 10% by 2020. This follows similar moves in recent years aimed at countering criticism that soft drinks are causing obesity, such as putting calorie counts on the front of its packaging globally in 2013, and, along with Pepsi and Dr. Pepper, promising to reduce calories from beverages in the US diet by 20% by 2025.
Coca-Cola is also making strides in becoming more environmentally friendly. In early June, the company unveiled the world's first bottle made from plant materials. Traditionally, polyethylene terephthalate (PET) plastic bottles are created by burning fossil fuels, which generates a large carbon footprint. Despite looking, functioning and recycling like a conventional PET bottle, Coca-Cola has employed patented technology that uses natural plant sugars to manufacture the new bottle. The company hopes to use the new bottle, dubbed the 'PlantBottle', exclusively by 2020. The move is part of Coca-Cola's stated goal of halving its carbon footprint by 2020, having already achieved a 29% reduction since 2007.
From a financial perspective, Coca-Cola is still producing healthy returns with an ROE of 22.4% and net margins of 15.5%. Additionally, the company is returning some cash to shareholders with a dividend yield of 3.3%.The stock price is up 55% over the last five years under performing the S&P 500 which has gained nearly 93% over the same period. Net income has declined in the year to December 31 2014 from $8.6bn to $7.1bn, despite near-identical revenues and gross profits.