Recently, the Canadian Real Estate Association (CREA) stated that sales of existing Canadian homes had slipped for a third consecutive month in January, suggesting that Canada's 5-year housing boom is coming to an end. The 3.1% decline in sales from December is being principally attributed to the drop in oil prices, which has in turn led to a decline in homebuyer demand in Western Canada, with Calgary leading the plunge: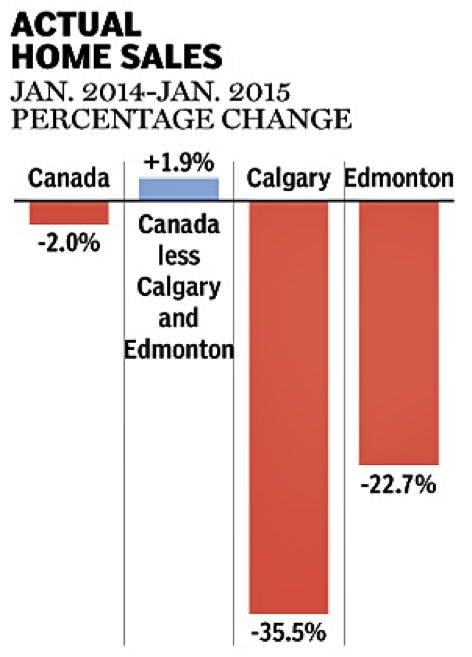 More than $100bn was invested in Alberta's oil sands between 2002 and 2012, which turned Calgary – Alberta's biggest city – into a thriving economic centre. From 2010 onwards, Calgary's population has increased by 16% to 1.2 million, as provincial revenues from 5 years of rising oil prices attracted a significant amount of energy industry workers from all over the world. Between July 2012 and July 2013, for example, Alberta drew 52,551 migrants in from overseas and 52,677 from other provinces within Canada, equating to a population increase of 3.5% over the year. Jobs in other sectors also grew as the sizeable oil revenues allowed Alberta's airport to be expanded and a billion-dollar hospital to be built.
The influx of workers consequently bolstered demand for housing in Calgary. House prices doubled in the last decade as demand outpaced the availability of new homes. Indeed, this led to a handful of "secondary suites" being rented out in the city – that is, apartments in basements or garages of existing homes. Moreover, Calgary mayor Naheed Nenshi has advocated the removal of existing regulations on secondary suite rental provision in Calgary in order to provide those on low incomes with access to affordable housing.
Oil prices have more than halved since June 2014, however, severely impacting the Alberta economy. Energy companies have been forced to cancel projects and impose redundancies, with Suncor Energy and Royal Dutch Shell announcing they would lay off 1,000 and 300 workers respectively, and Houston-based Civeo Corp recently stating that it has shed 30% of its Canadian workforce.
Canadian Imperial Bank of Canada has predicted that the province may experience a recession, while Derek Burleton, Deputy Chief Economist at Toronto-Dominion Bank, recently suggested that the expected labour market softening will trigger a housing correction in Calgary and Edmonton, the like of which has not been seen since 2008.
Canada's largest non-bank mortgage lender, Home Capital, has stated that it will reduce lending facilities in Alberta, as well as avoid some areas altogether, such as Fort McMurray, Alberta's oil industry centre. The lender will also examine applications from energy industry workers more critically in the wake of the region's job cuts, he said. Meanwhile, insurance company Genworth MI expects to cut the size of its Alberta portfolio, as well as increase its costs to cover the rise in bad loans expected this year.
According to a realtor from Calgary-based Royal LePage who was interviewed by Reuters, sellers are expecting a price correction rather than an outright housing crash, as fewer people arrive in Calgary to look for work in the wake of the oil price slump. Given that house prices in Calgary have only fallen by a modest 1.4% since January 2014, a housing crash may yet be avoided. Nonetheless, past behaviour may not be entirely indicative of what is to come.
Chart Source: Financial Post | Canadian Real Estate Association