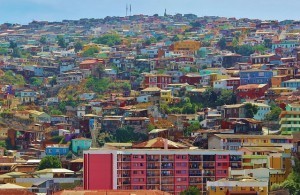 Over the past three years, the major Latin American equity markets have delivered mixed results. 2012 proved to be a bumper year for most emerging markets, as investor funds poured in from developed economies still suffering in the aftermath of the financial crisis. As advanced equity markets recovered from 2013 onwards, however, Latam markets consequently suffered when funds began to exit.
The S&P Latin America 40 index is an average of 40 stocks from Brazil, Chile, Colombia, Mexico and Peru, accounting for approximately 70% of Latam's total market capitalization. As such, it is a good proxy to illustrate the aggregate performance of the region.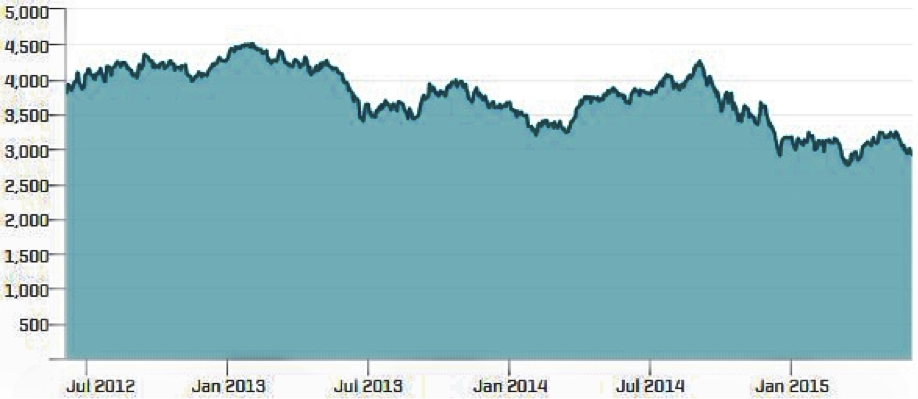 Source: S&P Dow Jones
Brazil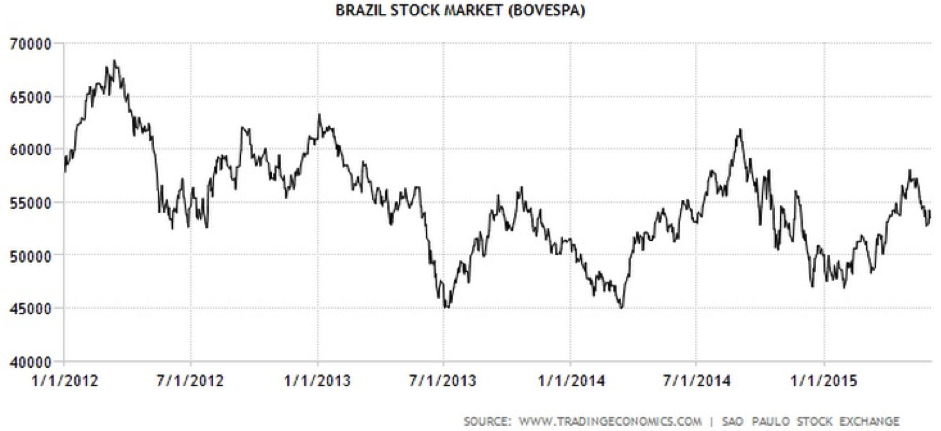 Brazil's stock market gained a modest 7.40% over 2012 but set new records for total financial volume, average daily financial volume, total number of trades and average daily trading volume. The biggest winners were consumer goods firm Hypermarcas (+95.53%), Brazil's largest online retailer B2W Varejo (88.89%) and waste management company Sabesp (73.79%).
BOVESPA took a downturn in 2013, however, posting a loss of 15.50% for the year, the worst losses since 2008. The decline was led by a weakening of the Brazilian real, accelerating inflation and falling exports. Brazil's biggest commodity firms were among the worst performers, including oil and gas firm OGX, which tumbled by 83% during the first six months of the year, and the mining company MMX Miner, which lost 84% over the year.
The stagnant trend continued in 2014, with state oil company Petrobras mired in a corruption scandal and investors fearing that the government would intervene to control prices. However, the BOVESPA has recovered moderately this year.
Mexico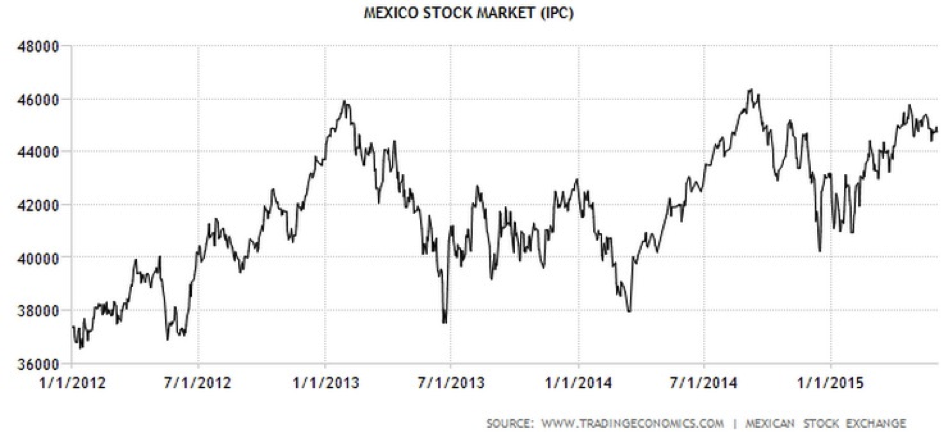 Mexico's stock market (BMV IPC) experienced substantial growth of 17% in 2012 as GDP growth remained above a healthy 3% throughout the year. Moreover, as China's economy slowed in 2012, investors looked towards Mexico – which has a low exposure to Asia – and its strong ties with the US. In the seven months to July 2012, foreign investors put $3.4bn into Mexico's stock market, compared with $2.9bn in Brazil.
The BMV fell by 1.7% in 2013, although this drop was still small enough to make it the best-performing equity market in Latin America. The trend continued in 2014 with a further 1.4% drop, but it has recovered in 2015 and is currently up by approximately 7%. This recovery has coincided with a significant 4.7% depreciation in the Mexican peso so far this year. Mexican exports to US and Canada have prospered from the peso's weakness, which could be a positive catalyst to drive the stock valuation of export-focused businesses such as beverage company FEMSA.
Chile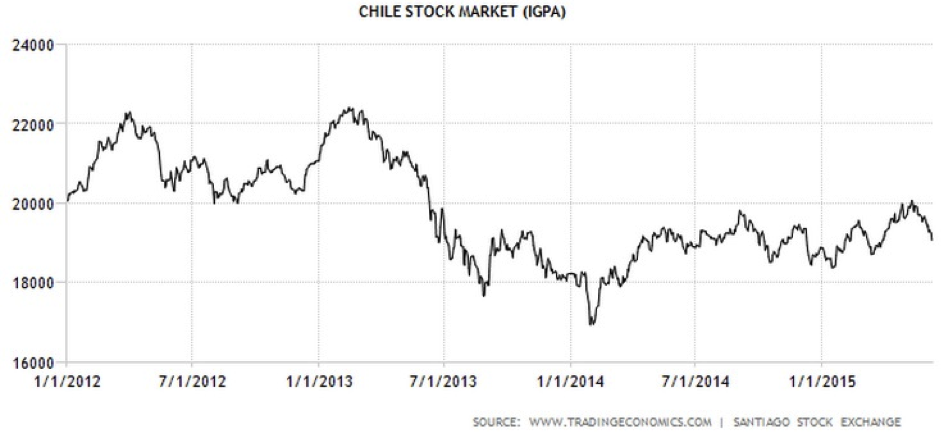 After a fairly range-bound 2012, Chilean stocks performed poorly in 2013 – mainly due to slumping copper prices that impacted the copper mining industry, which accounts for a large proportion of Chile's exports. For example, copper mining giant Antofagasta saw its stock value plunge by 43% during the year.
Since 2014, the market has trended gradually upward, as falling oil prices and a stronger dollar have given a boost to power utilities and wine producers. With Chile importing most of the fossil fuels it consumes, the reduction in oil prices has helped boost the stock price of electricity generators such as Colbun SA, which has 7 thermal power plants that run on petroleum, natural gas and coal.
Colombia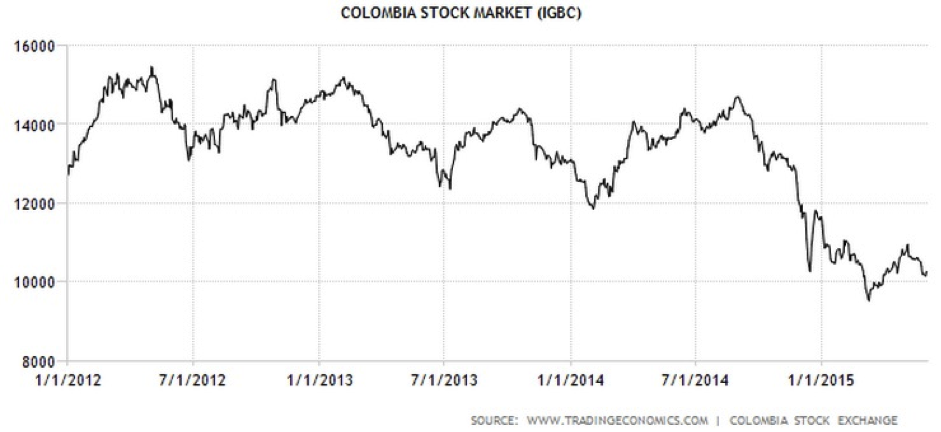 By the start of 2012, Colombia's IGBC index, which tracks the Bolsa de Valores de Colombia stock exchange's 30 most liquid stocks, had generated a return of 69% over the past 10 years. This figure was the highest in Latin America and six times more than Brazil's market over the same period. The strong performance continued through 2012, and oil companies were among the major winners. Although Colombia is only the world's 19th largest oil producer and the 4th largest in Latin America, a surge in oil prices coincided with market liberalization in the country. This in turn opened up the countryside to oil exploration for the first time in 2002, and has allowed Colombia's oil exports to double to 53% of total overseas sales in 2014, up from 25% a decade earlier. Responsible for nearly two-thirds of Colombia's total oil production, the country's largest petroleum company, Ecopetrol, gained 36% during 2012.
Although 2013 was a difficult year for Colombian equities, the country was still one of the best performers in the region, topped only by Mexico during that 12-month period. The BVC fell by 12.3% in 2013 and then lost a disastrous 34% in 2014 (with only Russia performing worse globally) as Columbia's increasing dependence on oil exports was exposed by the oil price plunge. Again, Ecopetrol was among the biggest movers, falling by 35% in 2013, and then by 55% in 2014. The IGBC is 13% lower this year, as continued low oil prices contributed to a 25% decline in net foreign investment during the first quarter. In addition, portfolio investment in Colombian assets declined 58.7% over the same period, as expectations that the US was going to raise interest rates made dollar-denominated assets more appealing.