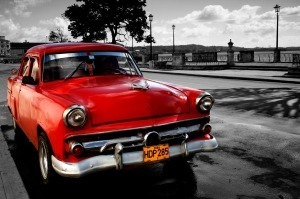 On December 17, the US and Cuba announced that they had taken their most definitive steps in decades towards normalized relations. Through a series of meetings in the coming months, several measures will be implemented to improve diplomatic ties, including an exchange of prisoners being held on charges of espionage and the establishment of embassies in Washington and Havana.
The US will also relax certain restrictions on financial transactions with Cuba, remove certain restrictions on US citizens traveling to Cuba, and allow certain goods to be exported to the Cuban private sector. President Obama has left the decision of formally lifting the trade embargo to Congress, but this will require some key human rights issues to be resolved before approval can be given.
Background to the Separation
After Fidel Castro established a revolutionary socialist state in Cuba in 1959 and began nationalizing US-owned property, relations between the two countries quickly deteriorated. Official diplomatic relations were broken in 1961 during the midst of the Cold War, and the establishment of a trade embargo by the US would eventually prove to be devastating for Cuba's economy.
Cuba therefore turned towards the Soviet Union in the early 1960s and deepened ties with its Communist ally. In doing so, Cuban and US relations further polarized.
Soviet Influence
The Cuban-Soviet partnership endured throughout the Cold War, with Russia investing heavily in Cuba, buying its entire sugar crop, supplying subsidized oil and sending thousands of its citizens to Cuba for work and educational purposes.
Following the Soviet collapse in 1991, Cuba lost its key patron relationship and experienced four years of recession. The relationship today is still on good terms, however, although Russian influence in Cuba has suffered. On a list of Cuba's most valuable trading partners in 2013, Russia was ranked 14th, one place below Algeria.
The US decision to extend its hand to Cuba could not have come at a worse time economically for Russia, especially given the US-led western sanctions relating to the Ukraine political crisis. Its economy is set for a long and deep recession following unprecedented currency and interest rate volatility in the latter half of 2014, as well as a drop in global oil prices that is severely hurting Russia's exports.
As the ruble continues to slump against the US dollar, Russia's historic economic influence in Cuba seems to be quickly fading, while US interests in Cuba grow.
Potential Benefits of Cooperation
Establishing diplomatic relations comes at a time when Cuba's main benefactor, Venezuela, is experiencing economic turmoil and declining oil output. Cuba exerts significant military and intelligence influence over Venezuela and relies considerably on Venezuelan oil exports. If the current government in Caracas continues to decline in stability, Cuba may soon have to look elsewhere for its energy needs.
Cuba has evidently been looking elsewhere to expand its ailing $77bn economy recently. In March 2014, Cuba's parliament approved a new law aimed at attracting $2.5bn per year of foreign investment by allowing Cubans living abroad to invest in certain enterprises for the first time.
From a US perspective, the thawing of relations may eventually allow US firms to invest on Cuban soil. Tourism is one obvious beneficiary, and President Obama's announcement that US tourists can use credit and debit cards in Cuba is positive news for the industry.
Cuba is also potentially attractive for agriculture, with its historical abundance of sugar and tobacco crop production. At the time of the embargo, US companies operated 75% of the arable land in Cuba. Cuba could therefore present itself in the long run, assuming the embargo is eventually lifted, as an attractive investment opportunity for crop producers and fruit growers. The renewed ties between Cuba and the US could also be positive for other nearby Caribbean nations such as Jamaica.