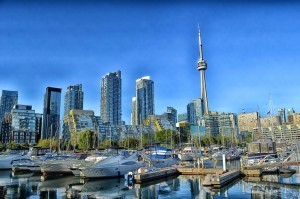 In June of this year, Statistics Canada released data showing that the wealth gap between Canada's richest and poorest households has widened since 1999, with gains in net worth achieved by the wealthiest households easily outpacing growth made by lower-income households. The research found that the average net worth of the top 20% of families, as sorted by income group, rose by an average of 80% between 1999 and 2012 – rising from $721,900 in 1999 to $1.3 million in 2012 (adjusting for inflation). However, those in the bottom fifth experienced a gain of only 38%, from $79,500 to $109,300.
The Statistics Canada research follows last year's highly comprehensive study conducted by independent Canadian organisation The Broadbent Institute, in which wealth distribution figures were obtained for deciles, rather than quintiles. This research revealed that the top 10% of Canadians owned almost half of the wealth in 2012: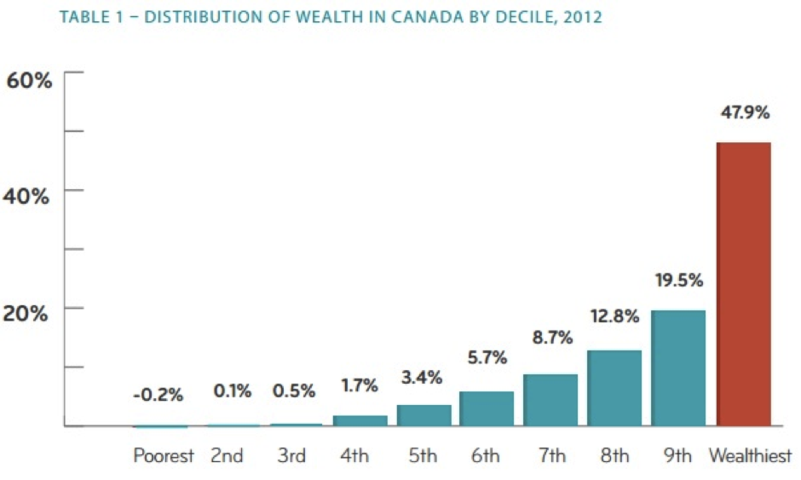 Source: The Broadbent Institute
Furthermore, additional Statistics Canada data has concluded that, in addition to wealth inequality, income inequality has also been rising in Canada. Between 1982 and 2012, the top 1% of income earners saw their after-tax income (in constant 2012 dollars) increase by 68%, reaching $300,700 in 2012. This rate of increase during the 30-year period is significantly more than the 33% increase to $107,250 which the 1%-10% band of income earners experienced, and even more so than the mere 11% rise seen by the top 10%-50%.
The composition of those income earners within the top 1% has also changed since the early 1980s. A recent study from The Institute for Research on Public Policy found that between 1981 and 2011 the top 1% of income earners have driven growth in the financial and business service sectors, a characteristic that has been common to both Canada and the United States. Unlike the US, however, the oil and gas sector has also contributed to income growth at the top, particularly in more recent times, while medics' participation in the top percentile has diminished. The resource boom of recent years, while being a major contributor to the top 1%, has also allowed income inequality to lessen between 2006 and 2012 within Canada's resource-rich provinces, such as Newfoundland & Labrador, Saskatchewan and Alberta. Nicole Fortin and Thomas Lemieux's study "Changes in Wage Inequality in Canada," soon to be published in the Canadian Journal of Economics, found that less educated and younger employees in the aforementioned provinces have benefited "disproportionately" from the resources boom, resulting in a local fall in income inequality. However, given the collapse in oil prices since the second half of 2014, this pattern has very likely ended.
From the perspective of world economic growth, rising income inequality is considered highly undesirable. Recent OECD research asserted that an expansion in income inequality between 1985 and 2005 led to a cut of 4.7% in cumulative economic growth between 1990 and 2010 across 34 of the organisation's member countries. The OECD concluded that, "Put simply, rising inequality is bad for long-term growth." Such sentiments have also been echoed by the Administrator of the United Nations Development Programme, Helen Clark, who recently acknowledged that half of the world's total income is earned by the richest 8%, leaving the remaining 92% of the world's population with the other half. In addition to hindering economic growth, a high degree of inequality also stymies efforts to reduce global poverty, increases political and social unease, and undermines social cohesion. However, inequality can be combated, according to Clark, by "pursuing inclusive growth, making public expenditure on universal social services and social protection priorities, and broadening civic engagement."