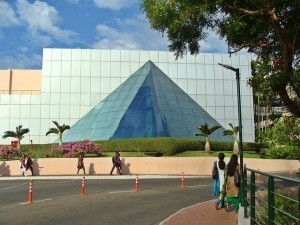 India, the world's second-most-populated country with 1.21 billion people (according to the 2011 census), and the third-largest economy (in purchasing power parity terms) having overtaken Japan last year, is now attracting a significant amount of investment from overseas. Its main stock market index, the Sensex, gained almost 30% last year and a further 6% so far in 2015:

(Source: Trading Economics | Bombay Stock Exchange)
Optimism over new, "business-friendly" government
Among the reasons for India's recent strong performance has been the focus by the new government under Prime Minister Narendra Modi on adopting business-friendly policies and removing much of the long-reigning market regulation which previously created repellent conditions for investment. Often citing the slogan "red carpet, not red tape," Modi has introduced several economic reforms designed to promote foreign investment into India – measures which previous regimes were considerably more reluctant to consider.
Modi's "Make in India" initiative, for example, is encouraging the influx of foreign capital in order to spur manufacturing production in India, in part through raising the limit on foreign ownership in industries as diverse as defence, rail transportation and construction. The new government has also proposed amending rigid regulations concerning land acquisition (which has previously raised the cost of industrial projects) and labour market flexibility.
The government is also seeking to improve efficiency in India's highly regulated energy markets. An electronic bidding system for coal mines has been introduced which allows direct participation by coal-utilising private companies such as steel, cement and electric power companies, and which lays the foundation for future commercial coal mining by private companies. On the oil side, removal of fuel subsidies in India's diesel market in October last year is expected to save the government more than $10bn. The halving of crude oil prices has also cut $50bn from the country's total import bill.
Booming industry
The IT sector is at the forefront of India's booming industries. Increased outsourcing activity and foreign direct investment (FDI) have provided the basis for sizeable growth in the IT industry's employment levels, as well as the development of major hubs in Bangalore and Hyderabad. Infosys, for example, is one of India's biggest companies and provides back-office services such as data maintenance, outsourcing and programming services to its customer base, the majority of which are US and European companies in banking, finance and insurance. Infosys recently concluded its $200mn acquisition of Israeli cloud tech firm Panaya in the biggest tech deals ever between India and Israel, two majorly technology-focused economies.
FDIs are also contributing to solid growth in India's banking sector, with international banks recently showing more willingness to open branches in India. The nation's biggest private sector lender, ICICI Bank, saw a 54% surge in its stock price last year and is expected to continue this trend in 2015 on the back of expected interest rate cuts by India's central bank, thereby improving net interest margins for the banking sector. Furthermore, the government has been keen to expand the reach of banking services to India's considerable unbanked population. Modi has indicated that he hopes to open 100 million bank accounts in a bid to help lift hundreds of millions out of poverty.
The automobile industry, having grown 9.8% by volume on an annualised basis last year between January and October, is expected to continue performing well in 2015. Tata Motors, India's largest automotive industry manufacturer, bought Jaguar Land Rover in 2008 and since then has been expanding operations by exporting its cars to Indonesia and the Philippines, as well as establishing a presence in South Africa, Nigeria and Kenya. The Tata Group subsidiary also has plans to set up an assembly plant in Saudi Arabia. The Tata AutoComp subsidiary has also recently agreed to make truck seats in a joint venture with Canadian manufacturer Magna International Inc.
Further reforms in the pipeline?
Much work still needs to be done, however, especially with regards to further economic reforms. According to the World Bank, India was the 142nd-easiest country in which to conduct business, out of a total of 189 countries and ranking just below Uzbekistan. US President Obama, while recently acknowledging the reforms implemented by Modi, highlighted the persisting bureaucracies "…that make it hard to start a business, or to export, to import, to close a deal, deliver on a deal."
A major litmus test of India's progress, as well as its potential appeal for attracting sustained overseas investment in the future, lies in the nation's upcoming budget announcement on February 28. While Finance Minister Arun Jaitley is expected to announce further reforms that will put India's economy on course for an estimated 7-8% growth rate over the next two years, many eyes will also be focused on how the major persisting issues of poverty and corruption will be addressed.